Rig Workers Needed in CO, WY & UT: Training, $25/hr to $32.50/hr & up (Per Diem, Lots of Paid OT)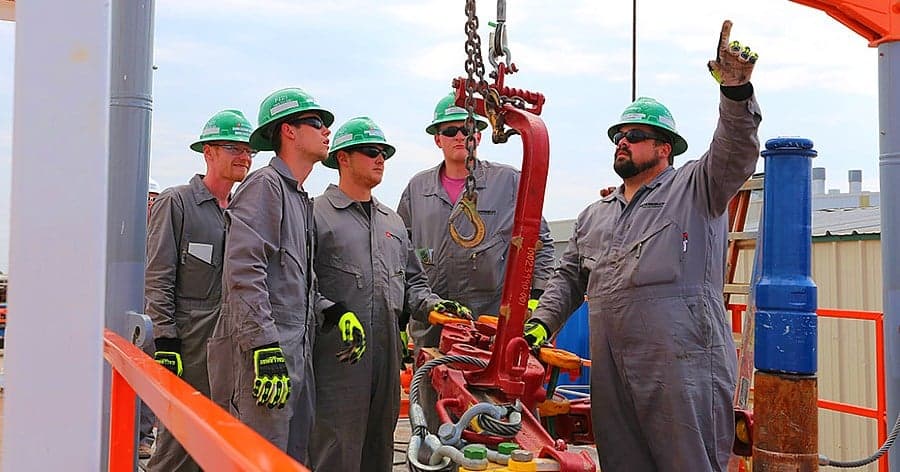 More info on what Patterson-UTI is hiring for:
Patterson-UTI is currently hiring Floorhands, Derrickhands, Drillers & Rig managers for the lower Rockies region including Colorado, Utah, and Wyoming.
Per Diem & Lots of paid overtime available on a 14/14 rotation or 7/7 rotation.
Pay ranges from $25 to $36.50 per hour for hands and drillers & $134,500/yr starting for rig managers.
Floorhands: assists the Motorhand, Derrickhand, and Driller in day-to-day rig operations. Major responsibilities include general maintenance and cleaning, checking the rig and equipment, and assisting in drilling activities. The Floorhand is responsible for making drill pipe connections and tripping pipe in/out of the drilling hole.
Motorhands: responsible for the generators, equipment, and systems that power the rig and drilling activities. Additional responsibilities include off-loading materials, maintaining equipment, and assisting in rig up and rig down. The Motorhand works closely with and oversees Floorhands on the rig floor, assists the Derrickhand as needed, and assists the Driller in day-to-day operations.
Derrickhands: responsible for the mud systems. This includes measuring mud weight and viscosity, mixing chemicals, and maintaining mud pumps, shakers, and tanks. Other responsibilities include steadying pipe during connections/disconnections and guiding pipe into and out of elevators. The Derrickhand works closely with and oversees the Floorhands and Motorhand and works under the supervision of the Driller and assists in day-to-day operations.
Drillers: responsible for monitoring well conditions and drilling parameters. Additional responsibilities include delegating tasks to Derrickhand, Motorhand, and Floorhands based on drilling activities. The Driller must be able to communicate with a variety of employees and third parties including Customer representatives and Directional Driller.
Rig Manager: is responsible for every aspect of daily rig operations and supervises all employees working on the rig as well as drilling activities and rig equipment. This includes compliance with Company policies, rules and regulations, ensuring that employees and onsite personnel are working safely, planning maintenance and minimizing rig down time. The Rig Manager provides leadership, safety compliance and direction in resolving operational and personnel issues. The Rig Manager is also responsible for planning and directing drilling operations, rig moves, as well as regular communication with Company personnel, third parties and Customer representatives.
Work Regions:
These opportunities from Patterson-UTI are available in Fruita, Utah, Wyoming.
Features:
The below are factors that tend to matter for our listing seekers. This listing with Patterson-UTI offers:
Competitive Wages
Hands On Training
Overtime Paid
Per Diem
As positions vary, please confirm details with employer.
Requirements:
Patterson-UTI has indicated that these are the requirements for the listing:
18 Years Of Age Or Older
All Types Of Weather
Requirements may not be comprehensive. Confirm w/employer.
About Patterson-UTI:
Patterson-UTI provides expertise and scale in major operational areas as well as a diverse network of drilling and pressure pumping services, directional drilling, rental equipment and technology. They are dedicated to delivering results so that their customers can embrace new possibilities and growth.
Read more on Patterson-UTI Jobs
Ready to apply?
Interested in this lead from Patterson-UTI? It's time to take action! Click the buttons below for the methods you can apply to this job and follow the instructions provided. Good luck!